Have a happy Thanksgiving everyone!
And a happy Thanksgivikah!

Have safe travels and enjoy the leftovers.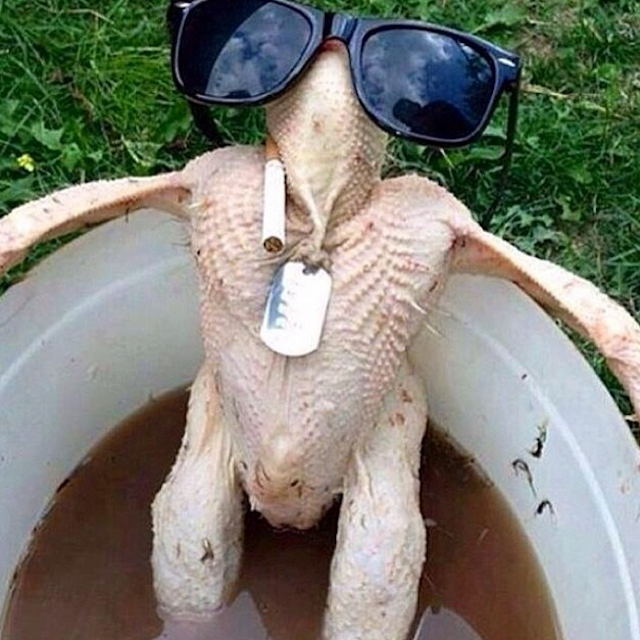 Views: 72 • Comments: 4 • Write comments
Posted by: Locke » Fri Nov 01, 2013 10:10 am
I'm happy to announce another Untamed Gaming fun night! We encourage members and regulars alike to join us for this community bonding event. There are many people in this clan/community that are still strangers to each other and we hope to change that by providing an opportunity outside of normal pubbing for them to interact.
This will be held next week on
Saturday, November 9th
from
8pm
to
11pm
Eastern.
Agenda
We will once again focus on Team Fortress 2 for this one.
TF2 Deathrun

-

8:00 pm - 9:30 pm
We did this last time and it was very well received. This time around we will be doing a different set of maps.
Description:
One team is the runners, one team (usually a single person) is the mastermind. The runners have to make it through a deadly labyrinth of unique traps in order to win. The mastermind's goal is to strategically spring these traps to eliminate all of the runners and prevent that from happening. The traps can only be used once each.
I would strongly suggest not spoiling yourself and running through the maps until the night of the event. I truly feel the "unknown" aspect about these maps is what make them most fun. And just like last time, if we discover a trap to be too cheap or completely unavoidable, we may forbid the usage of it.
TF2 Prophunt

-

9:30 pm - 11:00 pm
This mode has been around for quite some time but I never really played it. It has been suggested many times in the past so we are finally going to give it a shot.
Description:
This is simply hide and seek (and kill). One team is changed into various props (crate, barrel, bush, etc) and do their best to hide and survive until round end. The other team are normal classes on a mission to eliminate all the hiders before time runs out. There is a mechanic built in that curtails the strategy of shooting/spamming every object. For every shot that doesn't hit a hiding player, the attacker loses some health. Also, a number of things/weapons, such as air blast, are disabled to make it as fair as possible.
For the most part, the props on each map blend in. However, sometimes you can get a bad prop (such as the control point) that is way too obvious and stands out, so I have enabled the option to "re-roll" for a different prop once per round.
Prizes/Items will likely be given out throughout the night as well.
---
All these times are tentative. If we feel like we're having too much fun or no fun at all, we may extend or cut short where it seems appropriate.
For those attending the event, please hop into Ventrilo when you arrive. Not only will important information be disseminated within but it gives you an opportunity to interact with others on a more personal level.
I apologize for the short notice for this, it has been hard to nail down a date. Don't feel bad if you cannot make this one. I would like to start holding these fun nights with more frequency at a minimum of maybe once per month. I would also like to mix in other games, such as Minecraft, in future iterations. If you have other suggestions, feel free to post them.
If you do plan on attending, please post here that you are so I can get a rough headcount. It will help me prepare and help prevent me from being over/underwhelmed. If we have a ton of people, I may have to increase the server size. If we have only a small amount, I may make the servers public.
Hope to see you there!
---
Map Downloads
Downloads directly from the server aren't working quite right so please download from:
Full Package:
Here
(~304 mb)
PropHunt maps only -
Here
(~113 mb)
Deathrun maps only -
Here
(~248 mb)
The Deathrun maps are massive so here are individual downloads:
dr_winterhill_beta2
dr_safety_first_final
vsh_dr_block_v6
dr_minecraft_reduxb9
dr_wolfenstein_v1_2
Extract the contents of the zip to the following location:
Program Files > Steam > steamapps > common > Team Fortress 2 > tf
1
,
2
Views: 366 • Comments: 17 • Write comments
Views: 685 • Comments: 4 • Write comments
---
In total there are 10 users online :: 1 registered, 0 hidden and 9 guests (based on users active over the past 5 minutes)
Most users ever online was 55 on Thu Oct 06, 2011 3:57 pm

Registered users: ElCubanator
Legend: Administrators, Members, Senior Members
In total there were 13 users online :: 3 registered, 0 hidden, 1 bot and 9 guests (based on users active today)
Most users ever online was 192 on Sat 30. Nov 2013

Registered users: ElCubanator (last at 12:45 am), Google [Bot] (last at 12:30 am), Ferox (last at 12:27 am), Captain.Winky (last at 12:08 am)